Wireless
audio transmitter
CloviFi is a wireless audio transmitter that connects to a TV's audio out port (or any other device with an audio out port) to transmit the audio over a Wi-Fi signal on an existing network to multiple devices: mobile phone, tablets or over Bluetooth to any wireless headset or audio speaker. CloviFi delivers the desired audio from its source directly to your ears, overriding the background distractions.
Diffco team created a complete software stack for this product from the CloviFi firmware, audio streaming protocol to the mobile applications both for iOS and Android.
Use cases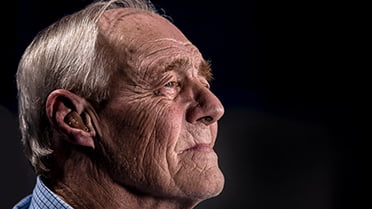 Seniors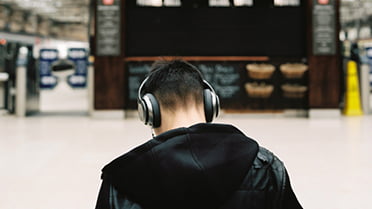 Public places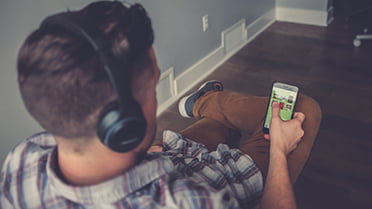 Home uses
Best audio streaming technology
Customized CloviFi firmware, optimized for the hardware and the task

Customized audio streaming protocol

Customized audio receiver software working within the mobile apps
Wi-Fi & Bluetooth
connect
The solution allows the app to reach minimal latency and high sound quality under conditions of home or public WiFi networks.
CloviFi is able to adapt its streaming protocol to the specific task, depending on the number of users, quality and stability of the WiFi signal, and the local network.
Easy
to set up
CloviFi has a very simple setup process.
You just need to plug it into a TV's audio out port or any other audio source, run the app, and enter your home or public network settings. The mobile app will do the rest.
Easy to use
CloviFi mobile app provides a simple user interface. The app has a perfect integration with the iOS/Android media center, which allows you to use native audio controls, playing in background, and much more.
Multiple devices
in one app
The mobile app allows you use multiple devices from the one app. Place CloviFi in your living room, kitchen, bedroom or in the office and enjoy CloviFI everywhere. Just run the search and connect to the device you need. It's that simple.
Bluetooth
streaming
In addition to WiFi audio streaming, CloviFi allows you to plug any Bluetooth headset or audio speaker directly into it. Just run the search process and pair CloviFi with the desired device.
Software update
The Diffco team developed the reliable software updating solution, which keeps your CloviFi always fresh and updated. It's based on cloud technologies with a solid testing and backup framework.
Remote
maintenance
We also care about customer support and help, and that's why we developed the remote maintenance solution that helps our engineers to connect to your CloviFi remotely, monitor the status, update software, and repair if needed. You do not need to explain and spend time on phone calls.
Client's review
Diffco engineers were very professional in finding a solution to our technical task, which initially wasn't solved by another team of specialists. As a result, we managed to implement an excellent technology of sound transmission in a short period of time and to build our product on it.

Vitaliy Kirkpatrick CEO at Clovitek
Let's get started
Thank you!
Your message has been sent.
We will process your request shortly.
Have a question? Call us
+1 (415) 655-1002