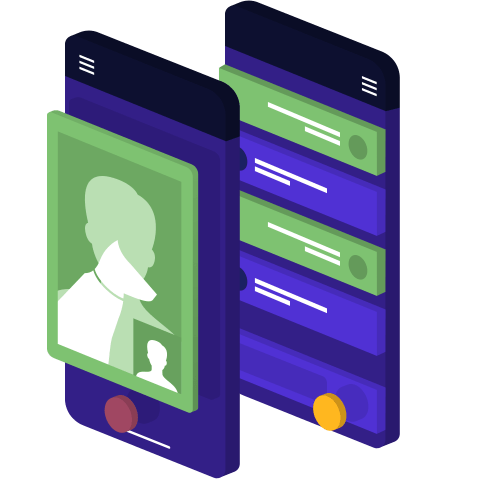 NDA case*
NDA app for pet owners
NDAPet is a mobile application for a Fortune 500 client targeted to dog and cat owners, that helps to monitor their health and use the online consultation service with the best doctors and care professionals.
*We cannot disclose client's name and all project details by NDA (non-disclose agreement). This is a general project story we can share with you.
Features and technical details:
An application platform has a wide catalog of selected vet clinics to connect pet owners and vets for making an appointment or an online consultation.
Built-in telemedicine service allows pet owners to make video calls with medical experts to perform a complex health screening directly from the smartphone. The maximum waiting time for a consultation is less than 5 minutes.
As a result of an online consultation, pet owners receive a full report in paperless format, which will be automatically saved to the pet's medical ID for future reference and health history.
The medical pet ID includes health information of the animal, vaccination and diseases registry provided by owners, as well as the medical examination results obtained after the digital consultations within the app or clinical assessment performed by the vet.
Based on the medical pet ID, an intelligent system within the app provides recommendations for daily pet care, vaccinations, clinical checks and nutrition.
Customer service department automatically receives an assessment of the specialist's work for every case and attentively monitors the quality of service. When choosing a specialist through the application, you can be sure about the proficiency and skills of the vet.
Show more features
From simple pet care advising tool
to a first pet telemedicine platform:
Original idea
Our customer is actively building a platform targeted to pet care advising and centralized catalog of vet clinics. Having a clinics registry website running, they have been looking for professionals in iOS and Android development to create one of the best medical applications for pet owners.
Enlarging the set of features
We have successfully released the first version of the product in 2 months. Rapid increase of the users and their feedback have demonstrated the need of the online consultation service for pets. Our development team together with product designers from the client's side progressed well in that direction and updated the application.
The first telemedicine service
New version with the developed consultation service, payment system and pet medical ID was introduced within 3 months and it was warmly welcomed by users.
Final product
From that moment we are enriching both iOS and Android applications with lovely new features and provide maintenance and support assistance for the client.
Technical solution:
iOS SDK
iOS SDK and Swift were used to build a native application with true iOS experience.
Android SDK
Android SDK was used to build a native application with true Android experience.
Google Maps and Places APIs integration
Google Maps and Places APIs are used to provide a rich set of data integrated with popular navigation systems.
Payments system integration
Payment system integration provides an online tool for in-app service payments.
Integration of video-calling system
Integration of video-calling system was required to deliver a full set of customer services and personalised approach.
Analytics integration to investigate the user's patterns
Analytics tool integration is a critical part to track and analyse the user's behaviour.
Show more
Let's get started
Thank you!
Your message has been sent.
We will process your request shortly.
Have a question? Call us
+1 (415) 655-1002